In an exciting announcement, the film 'Paradise' has revealed its star-studded cast and production details. Directed by acclaimed Sri Lankan filmmaker Prasanna Vithanage, this captivating movie promises to enthrall audiences with its intriguing storyline.
Produced by Newton Cinema, known for their commitment to delivering quality cinema, 'Paradise' is presented by renowned filmmaker Mani Ratnam under his esteemed banner, Madras Talkies.
The first-look poster of 'Paradise' showcases the talented actors Roshan Mathew, Darshana Rajendran, Shyam Fernando, and Mahendra Perera in the lead roles. With their on-screen presence, they bring depth and authenticity to the characters they portray.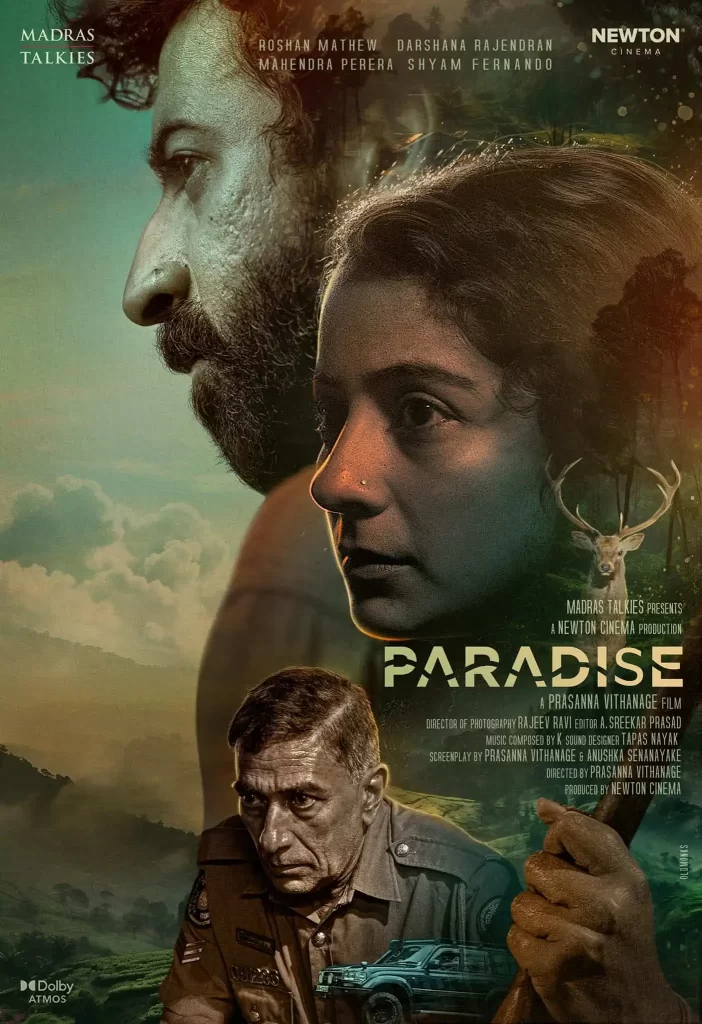 The screenplay of 'Paradise' is a collaborative effort by Prasanna Vithanage and Anushka Senanayake, ensuring a compelling narrative that captivates audiences across languages. The film will be released in English, Malayalam, Tamil, Hindi, and Sinhala, catering to a wide range of viewers.
The creative team behind 'Paradise' is equally impressive. With Rajeev Ravi handling the cinematography, Sreekar Prasad as the editor, and Tapas Nayak taking charge of sound design, audiences can expect a visually stunning and immersive experience. The music director K (Krishnakumar) will undoubtedly provide a captivating soundtrack that complements the film's narrative.
Producer and CEO of Newton Cinema, Anto Chittilappilly, expressed admiration for Prasanna's storytelling abilities. He described 'Paradise' as a perfect blend of artistic brilliance and commercial entertainment, urging viewers to experience it on the big screen.
With its talented cast, visionary director, and esteemed production house, 'Paradise' is poised to leave a lasting impression on audiences worldwide.
Paradise Cast:
Roshan Mathew @roshan.matthew
Darshana Rajendran @darshanarajendran
Mahendra Perera @mahendraperera_official
Shyam Fernando @shyam.fernando.12
Sumith Ilango @sumith_ilango
Mohammed Samsoodeen @ishamsamsoodeen
Sanjeewa Dissanayake
Rohan Ranathunga
Samantha Manjula
Sebestian Mohanraj
Vincent Chittilappilly @vincent.chittilappilly
Antonio Kelleher@kelleher0880
Newton Cinema: @newton_cinema
Anto Chittilappilly @antochittilappilly
Sanita Chittilappilly @schitti
Jyothi Krishna @jyot_hikrishna
Alexandra Kelleher @alekaskywarrior
Jaison Chittilappilly @jchittilappilly
Sunitha Rajagopal @sunitha810
Vincent Chittilappilly @vincent.chittilappilly
Madras Talkies: @madrastalkies
Mani Ratnam
Siva Ananth @siva_ananth
Paradise Crew:
Director of Photography: Rajeev Ravi @rajeev_ravii_fan_page (Fan Page)
Editor: A. Sreekar Prasad @sreekar.prasad
Screenplay: Prasanna Vithanage & Anushka Senanayake @anushka.senanayake
Line Producers: Trilan Shastri @trilan_shastri & Vicky @yursvicky
Music Director: "K" @k.music.composer
Sound Designer: Tapas Nayak @tapasnayak09
Art Director: Dhammika Hewaduwaththa
Costume Designers: Shilpi Agarwal @shilpi.agarwal & Buddhi Sanjaya Edirisinghe @buddhi_s_413
Casting: Damayanthi Fonseka @damayanthi.fonseka
Make up & Hair: Priyantha Dissanayaka
Assistant Director: Daminda D. Madawala
Colorist: Liju Prabhakaran @liju_prabhakar
Poster Designs: Oldmonks Design