The premier of Afdhel Aziz's latest documentary film "The Genius of the Place: The Life and Work of Geoffrey Bawa" took place in Colombo on 2023-07-15.    
Bawa: The Genius of the Place is a ground-breaking documentary exploring the work of Sri Lanka's most important architect Geoffrey Bawa and how he decolonised 20th century architecture and inspired Asia to live more naturally, sustainably and beautifully.This documentary celebrates five of his most important projects – ranging from ocean fortresses like the Lighthouse Hotel and jungle palaces like the Kandalama Hotel, to groundbreaking private houses like the Ena De Silva House and the Jayawardene 'Red Cliffs' House, to his magnum opus: his country estate Lunuganga, a 50-year garden where his ashes are buried.
In each location, the producers try to connect with 'The Genius of the Place' – the unique spirit which Bawa used as his inspiration.
Produced by a Sri Lankan-American Afdhel Aziz and his team from California the film will be pitched at film festivals and to studios like Netflix. It will be a fantastic promotion for Sri Lanka and Bawa architecture. Proud to see independent filmmakers like this promoting the paradise island on their own.
Geoffrey Bawa (1919-2003) is widely regarded as one of South Asia's most important architects of the 20th century – the equivalent of Frank Lloyd Wright in America, Luis Barragan in Mexico or Oscar Niemayer in Brazil.
Despite many challenges throughout the years – the restrictions of building materials in post-war Sri Lanka, a 30-year Civil War that fractured the country, opposition from environmental and religious groups to one of his projects, and a series of strokes that left him paralysed – Bawa prevailed, creating a body of work that is legendary in scale, scope and ambition.
While his work has been celebrated in books, his work has been undiscovered by global audiences utilising the medium of film. Using ground-breaking aerial photography, it shows the deep inter-relationship between Sri Lanka's beautiful landscapes and these stunning buildings which blurred the line between the inside and the outside – one of his signature contributions to the world of architecture and design.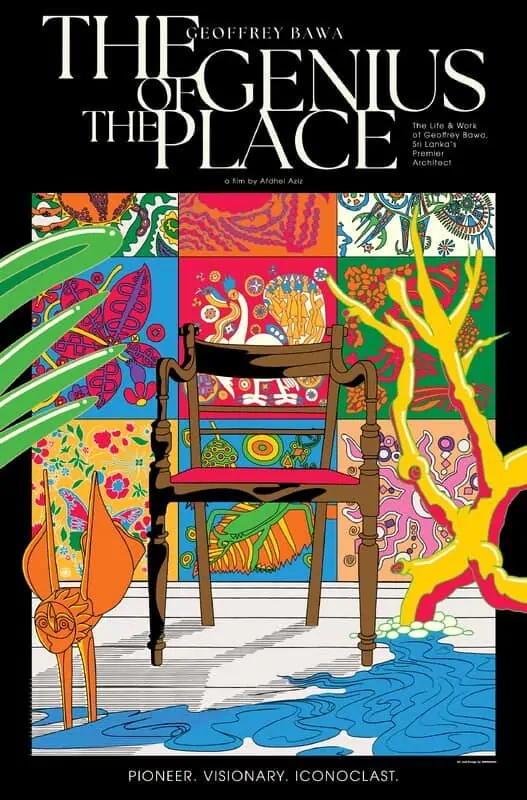 For more information visit www.thegeniusoftheplace.com