Peter Kuruvita, Sri Lanka very much on his menu
Renowned international chef Peter Kuruvita currently leading a celebrity chef's tour here is all excited about making his motherland the No 1 tourist destination in the world.

Peter Kuruvita, one of the hottest chefs in Australia, with a growing international culinary empire, has a move to Sri Lanka on his bucket list: "If I get the opportunity I'll move back for a few years. The family loves this place, and I think it'll be good for my kids (sons aged 13, 12 and six) to go to school in a different country," he says.
After a noon walk-about in the Pettah Market as part of his 'cookery tour' here, Peter Kuruvita cools off in a kade. Pic by Amila Gamage
Peter, whose newest restaurant, in Fiji, opened last Wednesday (February 6) is currently leading a celebrity chef's tour of Sri Lanka organised by niche Australian tour company World Expeditions which is tapping into a growing market of food-hound tourists who want to get under the skin of foreign countries through cuisine and culture.
"I'm covered in goosebumps," he says as the tour is explained in detail, and it's clear he's not just saying this for effect. His eyes are shining, and he shifts excitedly in his chair. "You're going to see Sri Lanka through my eyes."
Peter, owner of several restaurants, star of two high-rating Australian television documentaries, guest chef in a number of overseas restaurants, author of two books, "Serendip: My Sri Lankan Kitchen" and "My Feast", consultant to food and beverage businesses and producer of his own range of condiments, is naively happy to be showing travellers the Sri Lanka he brought so vividly to life in his 2011 television series, "My Sri Lanka".
It was hard getting the series to screens, he says. For a long time he walked around with pilot takes but no one was interested. "Sri Lanka was getting to the end of the war, and it was quite bloody – and then Channel 4 brought out that 'lovely' film."
Then Australia's Special Broadcasting Corporation decided on an eight-part series. "When we asked SBS what they thought of Sri Lanka, they said, 'Boat-people and war'. And I said, "Let's change this."
SBS just wanted the series shot in the south of the island. "I said, 'No way'," said Peter. "We became the first television crew to be allowed to film in Jaffna for 30 years." Jaffna became, in fact, a highlight of the series for Peter.
Such is the chef's drawing power and the attraction of Sri Lanka as a tourist destination that places in the first tour to this country were snapped up fast, and a second will come out here in September. More tours with Peter are planned for 2014.
"You don't get hospitality like this in many places in the world," says Peter. "I remember it as an amazing place. Sri Lanka deserves to be the Number 1 tourist destination in the world. The more people come to know the history of the country, the better I will feel in my heart."
The people on this current tour have come from cities thousands of kilometres apart all over Australia – Sydney, Darwin, Melbourne, Adelaide – all fascinated by the way Peter dragged viewers by their noses and tastebuds through this country on his TV series, and with his 2012 follow-up cooking series, "Island Feast", set in the Philippines, Indonesia, Vanuatu and the Cook Islands.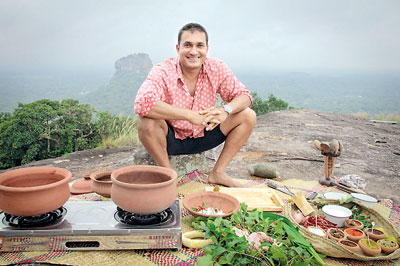 Cooking up a traditional meal atop a rock with Sigiriya in the background for the TV series 'My Sri Lanka'
In April, Peter sets off to Mexico, to film another cooking series. He's even talking of writing children's books, although, paradoxically, he is not a reader himself, having left school at the age of 15.
Also on the bucket list is "Feasting With My Father" – a journey, a film, a book – there's never just one thing with Peter, in memory of his Sri Lankan father, Wickremapala Kuruvita who left England in 1963 with his Austrian-born wife and children and made an extraordinary journey by car to Sri Lanka.
Peter was just four, but some memories are vivid. His father fell in with some Bedouin in the desert, who took the family to an underground spring, where Peter remembers being dipped into the waterhole in a bucket. In Austria, at Easter, he remembers grieving that the carefully hoarded Easter eggs had all melted. His father snapped off icicles dangling from trees overhanging the road, and gave them to Peter to lick.
When the family came to Danushkodi in South India for the last part of the journey to Talaimannar, Sri Lanka, the sea had receded and the ferry had been unable to make it to shore in the shallow waters. The family Austin sat sadly at the end of the pier as Peter's father flatly refused to accept advice to drive back to Mumbai and take a ship from there.
He got fishermen to bind two outrigger canoes together and bring them to the pier. He then drove the car off the pier and plonked it down on the canoes, which then set off through the shallow waters to the ferry to Sri Lanka.
Peter's reverence for his dad is absolute: for every story he tells about himself there are two about his father, one of those pyrotechnical characters of a past generation.
There's the one about how his father, stationed at Trincomalee during World War II watched in envy as American sailors on the USS Missouri dived off the ship's bow into the sparkling water; he couldn't swim but he could not stand to be left out of the fun, so he threw a bunch of coconuts into the water and jumped in amid gales of laughter, keeping himself afloat by clinging desperately onto the coconuts.
There's the story about the day the elder Kuruvita saw red with the racist policies of the Colombo Swimming Club, which let his white-skinned wife and the children swim in the pool but forbade him from coming in. "My Dad was one of the first people who changed the Colombo Swimming Club's rules," says Peter. "One day he walked in and refused to leave. Then he called some friends, and they all refused to leave. They said, 'This is our country, stuff you! How dare you tell me I can't come onto a property in my country?"
There are treasured memories of childhood in Sri Lanka before the family moved to Australia. Around the family's ancestral home in Karagampitiya was a huge garden with fruits and herbs, and Peter's grandmother used to take him by the hand and walk him through it, explaining the different ayurvedic uses of the trees and plants. It was from her that the young boy learned to cook. Peter remembers playing in the garden during the season when the butterflies descend in their thousands from Adam's Peak, the fluttery white insects sticking to his sweaty little body.
Peter's youth in Australia was not happy. His family arrived in 1974, just a few years after the White Australia Policy ended, and he suffered from racism at his school in a working class, red-neck area of Sydney where he was "the only brown kid in class".
He wasn't a scholar and was the despair of his father, preferring to play pranks such as following a dodgy tip to use a long bread roll as a silencer for a gun. "There I was, sitting on my bed in my underwear, pulling the trigger. Bang! Bread all over the place, in my hair, everywhere, the bullet ricocheting seven times around the room, and everyone rushing in to find out what had happened," grins Peter.
He left school and had no idea what work he could do. Eventually his father ordered him to go into a restaurant and ask for a job. He found work as an apprentice chef and developed a strongly competitive streak that has taken him to the top of his class.
"I worked seven days a week, in any restaurant that had a shift free," he said. "When I started in any kitchen I would look at the managing chef and think, 'I want your job in three months.' In 2003, he started the famous Flying Fish Restaurant and Bar in Sydney, another Flying Fish in Fiji, and this week, a steakhouse in Fiji. There are plans percolating for a restaurant in Sri Lanka one day. The island holds too many golden memories for Peter to keep his distance from it.
Which brings him to one last story about his father, who had gone hunting near Yala with friends. "It was a hoot," says Peter. "None of them could shoot. I was in the car. Dennis Caldera, one of Dad's friends, called out, "Hey's here's something – yeah, it's a pig!" Boom, boom boom. "I got him, I got him!" Next day, they excitedly went looking for the blood trail of their prey. There was a hunting guide who had named all his four sons after guns – Remington, Ruger, Walther and something else. Remington found all these bullet holes in the trees – they were all ten feet in the air! They wouldn't have hit any pig."
No guessing that "Feasting With My Father" could, like Ondaatje's "Running in the Family" become a classic.
Source :
http://www.sundaytimes.lk/130210/plus/sri-lanka-very-much-on-his-menu-32280.html